I
empower

my clients to focus on what makes them

successful

.
Calendar
Management
Maximize every minute of your busy work schedule. Your skilled VA will prioritize using good judgment and friendly people skills to organize your meetings, documents required, and book appropriate meeting rooms or restaurants reservations as required.
Project
Management
Assure your projects run smoothly meeting all objectives, milestones and deadlines. Your VA will manage every step of your project from start to finish, monitoring everyone's tasks to ensure they stay on track. Regular reports will give you status updates and peace of mind.
Travel
Arrangement
Travel enjoyably and stress-free knowing every attention to detail has been taken care of for you. Flights, rental cars, limo service, restaurant and hotel reservations will be made in advance and a complete itinerary sent to you listing all the details.
Documents
Have your handwritten or basic notes transformed into documents that have been edited for grammar or spelling, then formatted into highly professional business pages, pamphlets, course guides or complete books.
Presentations
Turn your ideas into powerful, professional presentations that captivate your audience and deliver your message with clarity. From executive meetings to public engagements; inform, persuade, and succeed.
Contacts
Stay top of mind with important clients and business colleagues. Leverage a powerful contact database cultivated from business cards, emails, and conversations and stay connected through email campaigns, invitations, cards, etc.
Contact me

and let's streamline your workload today!
Dianne McDonald
Dianne McDonald is the ultimate Executive Assistant.

With 30+ years combined experience in corporate and virtual working environments Dianne is well known as the right arm of many chief executives.

From managing multi-million dollar contracts to taming frenzied meeting and travel schedules for top executives - Dianne empowers her clients' success.
© Copyright 2013 Virtual Business Resources Inc.
CERTIFICATIONS

AWARDS
Business Excellence Award – Recipient 2006 – Greater KW Chamber of Commerce
Retailer of the Year Award – Nominee 2006 – iCON Sales & Marketing Club
Business Excellence Award – Nominee 2004 – Greater KW Chamber of Commerce
Dale Carnegie – Highest Award for Achievement (August 2003)

VIRTUAL ASSOCIATION MEMBERSHIPS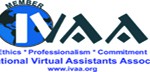 ×